LifeBoat360°
Lifeboat360°
This is a process whereby we take a 360° degree look at your goals and dreams.
We address short term temporary needs while always keeping the long term big picture in mind. In this world of competitive price driven options and choices, it is easy to get off course and forget about value. We can get caught up with easy and cheap solutions only to find down the road that they do not equate to value, nor will they support us when we are counting on them the most.
As a Financial Navigator, my approach is based on a 5 step proven process. I help pilot my clients on a journey through life to reveal benefits that will not only impact today, but have a profound impact on future generations.
Imagine that all the exotic islands and destinations in the world represent your goals, dreams and aspirations. How will you get there? Let me help you chart and navigate the safest and most efficient passage while keeping in mind there may be storms on any voyage.
Lifeboat360°is about being prepared. With your desired destinations on the horizon and a safe course charted, we will prepare for the financial voyage. We will decide on the best type of financial vessel and financial safety equipment you will need. We'll also review what you already own to see if it fits the journey and if we can build around it. If not, we'll modify or adjust your assets, making sure everything is just right. With safety equipment, it is imperative that it works properly when you need it most.
As life changes, so do our destinations. That's why we'll adjust your sails to stay on course, one degree at a time. We may also need to update your vessel and change some of the equipment along the way. As you navigate through these times, I will be there for you, making sure your plan is always focused on the big picture.
…And when you finally reach the end of your voyage and drop anchor in a safe harbour, I will help ensure that your vessel will be ready for the next generation.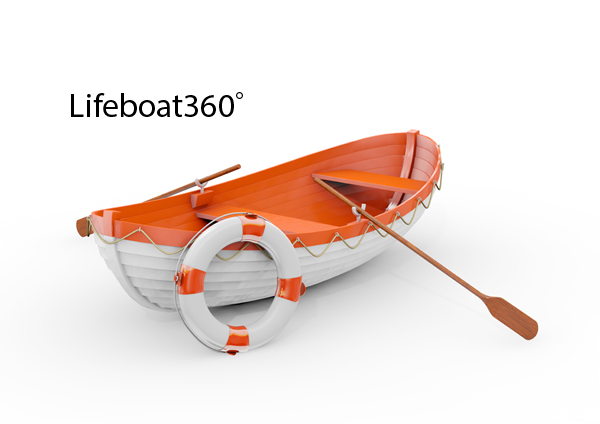 Lifeboat360°
Discover an individually crafted and customized 5 step Process designed specifically to meet your personal goals and dreams… because no two plans are the same.
Planning for your financial security is about more than just your retirement; it's about building a financial strategy that considers your current needs, long-term goals, retirement income phase and lastly estate and legacy planning. All this while taking into consideration health risk protection and minimizing taxation issues.
Chart your course – Lifeboat 360°
My process:

Listen as you describe what financial security means to you, now and for the future. Understand fully the most important aspects to you and your family while working with you to meet your main priorities. I will help you identify both personal and financial goals and objectives. These may include support for elderly parents, children's education, relieving financial pressures, retirement or estate planning.

Complete a 360° Degree Analysis of your current situation utilizing specialized forecasting software. I will take into consideration cash flow, expenses and all your current risk management solutions, saving and investment strategies, as well as any pension plans and government plans (CPP and OAS).

Study and Cross Reference to expose potential turbulent dangers and shortfalls that pose a risk to your goal of achieving financial independence. Problem areas could include: little, too much, or the wrong insurance, high tax burdens, investment risks, cash flow challenges, outliving resources and estate issues. These areas must be identified before solutions can be considered.

Develop Strategies and Craft Solutions to help you implement a customized personal strategy that considers your short and long-term goals, keeping a solid balance between cost efficiency, cash flow, value and goals. Implementing the right strategies now is essential to helping you reach your desired goals and objectives.

Provide Ongoing Navigation through personalized service to ensure you are still on course and, if not, make adjustments to provide the best results to meet your changing needs over time, always reflecting the current economic conditions.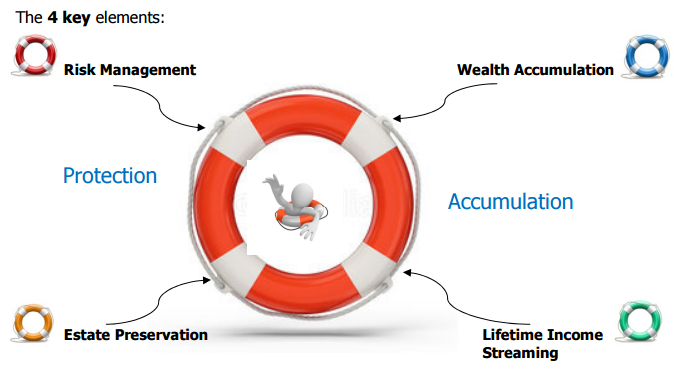 My approach to Wealth Accumulation and Estate Preservation is to chart a plan that will maximize your income level during your primary retirement years. The first and most important step is to determine your goals and objectives and then prioritize them. Next, we will look at the four distinct elements of the life ring of planning and establish a strategy to follow in each area. Once the strategies are put in place, they will be reviewed regularly as your life changes.

The 4 key elements:

Risk management –First, to ensure that adequate assets are available to cover unforeseen expenses such as those related to an illness, an injury or a long term care expense, so that personal retirement savings and assets are not depleted. Second, in the case of an untimely death, to make sure loved ones are properly looked after.
Life Insurance - debt coverage, maintain lifestyle for family, and wealth and estate preservation
Critical Illness Insurance - safety support for health care expenses and recovery in case of heart attack, stroke, or cancer
Disability Protection - secure income replacement
Long Term Care Needs - post retirement aging health care expenses 5. Power of Attorney, Living Will - health care directive


Wealth Accumulation - to develop a personally tailored investment portfolio that takes into consideration your lifestyle goals, retirement objectives and risk tolerances.
Determine your risk profile
Understand returns required to achieve goals and objectives
Determine portfolio mix, assess current mix if existing
Select the appropriate funds, keeping in mind objectives and risk profile
Establish registered and non-registered mix to minimize future tax issues
Creditor Protection requirements - where deemed important
Portfolio management and annual review for balancing


Lifetime Income Streaming - to develop an income stream level to match lifestyle needs, while keeping pace with inflation and enduring the entire life voyage. Draw funds from all sources with the most tax and cash flow efficiency.
Understand full lifetime income requirement needs
Utilize least flexible sources for fixed income expenses e.g. CPP
Utilize more flexible sources for varying or controllable expenses
Consolidate your income producing assets
Tax advantages and reduction
Ensuring lifetime income to meet lifespan
Consider Long Term Care health expenses


Estate Preservation - to disposition your assets in an orderly manner in line with your wishes and objectives
Encourage will, power of attorney and living will preparation
Estate tax liabilities (reduce probate and estate taxes and fees)
Planned giving options (tax efficient transfer of wealth to loved ones and equalization as needed, easy transfer of assets with beneficiaries)
Leaving a legacy – charities, donations and tax reductions
Estate bypass (privacy of personal affairs and reduction of taxes, probate legal fees)
My Service Summary: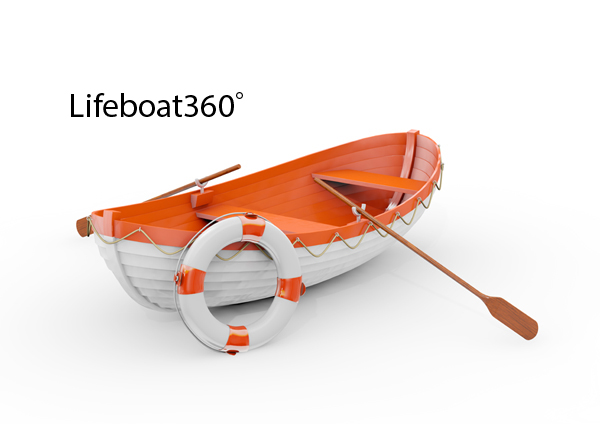 By utilizing my comprehensive Lifeboat360° process, you will eliminate financial stress. You will have peace of mind knowing that the plan you have put into place encompasses all aspects that are important to you…your desired lifestyle at retirement, provisions for health and illness risk, estate preservation and transfer of wealth to family, beneficiaries and charitable causes. Why not live stress-free?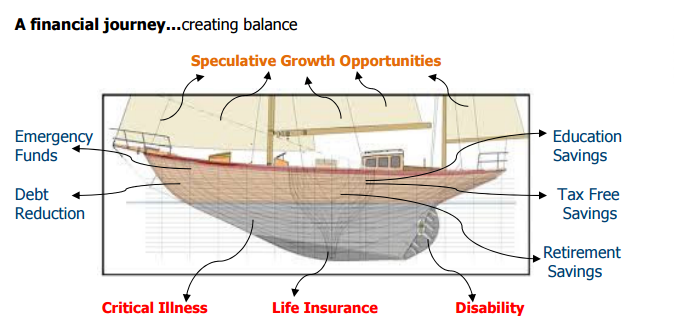 Life Stages

Early Career
As you start your career, you may want to:
Purchase life and disability insurance to cover your income, or protect your ability to earn an income
Purchase term life insurance or critical illness insurance as a cost effective way to cover an outstanding mortgage or debt
Purchase health and dental insurance coverage if your employer does not offer a group benefits plan
Implement budgeting and cash flow strategies
Develop good habits by starting a savings plan
Family
Having children changes your life and your needs. Now is a good time to:
Review your financial security objectives
Consider a child development education and risk management program (RESPs, critical illness and life insurance)
Update and review Critical Illness and Life Insurance plans to meet current family needs
Review budgets, cash flow and current savings strategies to follow the "pay yourself first" philosophy
Business Owner
If you own your own business, you may want:
Insurance to help cover outstanding business loans and expenses
A health and dental insurance plan or group insurance options for your employees
Exit strategies from your business
Enhanced retirement pay structures, pensions for self and key executives
Income replacement protection
Retained earnings reviewed for better tax efficiencies and minimization
Retirement
If you are retired or plan to retire soon, you will want to:
Consolidate all income producing assets with one advisor (this is the only way to maximize earning potentials)
Review all current insurance plans and decide on long term requirements to possibly reduce coverage or convert to permanent solutions
Review and understand any Health and Dental insurance coverage which could be forfeited or cancelled shortly upon retirement
Develop a Long Term Care strategy to help cover expenses in later years
Reduce Wealth and Estate transfer costs to preserve wealth for beneficiaries
Consider planned giving-legacy options and solutions